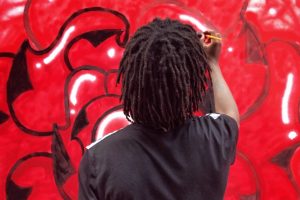 The flagship model of The Choice Program at UMBC, this program provides critical face-to-face contact, mentoring, and advocacy to young people involved in the juvenile justice system.
Choice's partnership with the Maryland Department of Juvenile Services (DJS) extends for 30 years. Choice is utilized as a community-based alternative to placement in a detention center, and also supports young people as they transition out of detention back into their communities. Choice refers to these teams as DJS Intensive Advocacy. Currently, DJS Intensive Advocacy has teams serving in Baltimore City, Baltimore County, Prince George's County, Howard County and Montgomery County.
AmeriCorps Members collaborate with youth and their families to set goals to reach their potential. AmeriCorps Members offer mentoring, assistance in navigating school & court systems, and referral services to meet youth and family needs.
Connecting with youth and families through home visits

Advocating for youth in the school setting

Organizing and leading after school, evening, and weekend activities

Providing conflict mediation and crisis intervention

Offering informal counseling around topics such as hygiene, sexual health, stress, parent relationships, and drug/alcohol use

Attending juvenile or family court hearings to report on youth and family progress in the program

Researching and making referrals to community programs such as individual or family counseling, substance abuse centers, emergency food or shelter services, or mentoring programs